Outer Ring of Paris
Four departments (each with an administrative prefecture) comprise the outer ring of Greater Paris: Yvelines (Versailles), Val-d'Oise (Pontoise), Seine-et-Marne (Melun), and Essonne (Evry) accessed by the RER (Regional Express) train lines and Transilien train lines.
Yvelines
Versailles
Versailles is located only twelve miles from Paris in the department of Yvelines. The city is particularly well-known for its 17th-century Baroque-style Château de Versailles, the Palace of the Sun King, Louis XIV. Construction began in 1661 by Louis XIV to replace the small chateau built by Louis XIII on his original hunting lodge site. Versailles became the primary residence and seat of the court of King Louis XIV through Louis XV and Louis XVI until the French Revolution of 1789.
This UNESCO World Heritage Site encompasses over four square miles. Beyond the palace (Le Château), the estate grounds comprise grand gardens (Les Jardins), a park (le Parc) surrounding a cross-shaped canal (le Grand Canal), and the Trianon estate (le Domaine de Trianon), which includes two palaces, Grand Trianon and Louis XV's Petit Trianon and gardens, and Marie Antoinette's quaint hamlet village with cottages and a farm (le Hameau).
---
Seine-et-Marne
Vaux-le-Vicomte
Marquis and Viscount Nicolas Fouquet's Baroque-style Château de Vaux-le-Vicomte in Maincy near Melun was Louis XIV inspiration for Versailles. As France's Superintendent of Finances, the nobleman enjoyed tremendous wealth until he was imprisoned for life in 1661 by Louis XIV for embezzlement and treason, lèse-majesté. When invited to a banquet to show off the exquisite estate, Louis XIV felt insulted by Fouquet's flaunting of luxury only worthy of the king himself.
The estate grounds comprise grand gardens surrounding a canal. The original 17th-century Baroque decoration and furniture of all four levels of the chateau remain intact. A dreamlike ambiance is created every Saturday evening from June to October when 2000 candles illuminate the chateau and its gardens. During this time, visitors can also enjoy a three-course meal overlooking the gardens at Les Charmilles, the restaurant on the grounds.
Greater Paris Rail System
The Île-de-France is connected by one of the world's best public transit systems operated by Transilien SNCF divided between five RER (Réseau Express Régional) lines, eight Transilien train lines, eleven Tramway lines, and seventeen subway (Métro) lines.
The extensive and user-friendly Metro and trams tightly connect the inner city, creating a walkable center, while RER trains extend service from the center into Grand Paris and continue into the greater Île-de-France region. All but one SNCF Transilien train operate from major train stations and extend into the greater Île-de-France region.
To Versailles:
The rapid regional RER train takes visitors directly to the palace in Versailles. From the left bank along the River Seine, take the yellow C5-line from Paris to Versailles-Rive Gauche.
To Vaux-le-Vicomte:
The RER train's green D2-line through Paris and Transilien train's pink R-line from Gare de Lyon run to Melun from which visitors can take a taxi to Vaux-le-Vicomte. (The chateau and tour operators also offer shuttle services.)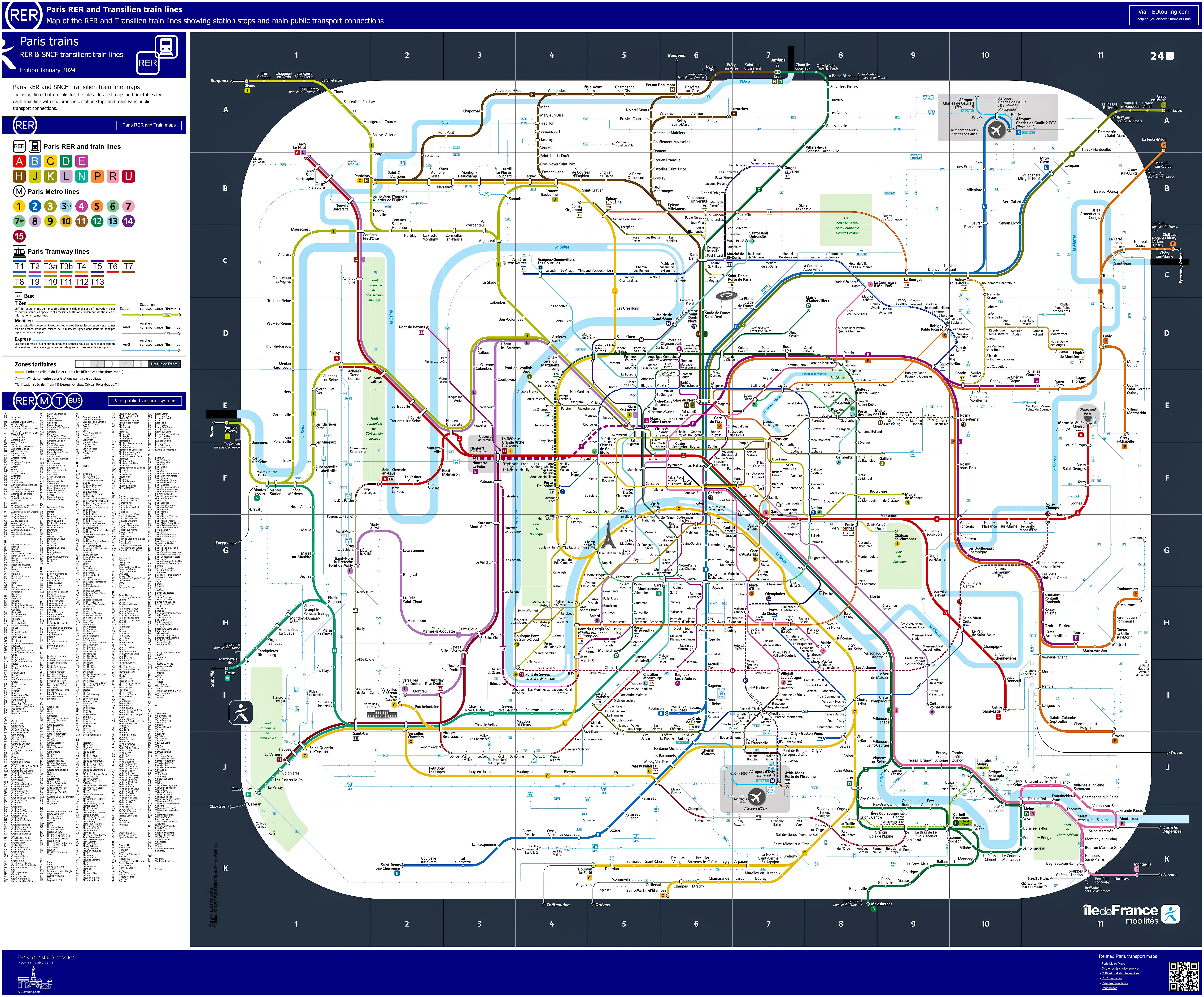 ---
Île-de-France Explored
Daybreak cast a hazy pastel backdrop beyond the trellised silhouette. Once viewed by Parisians as a blemish upon the skyline, this wrought-iron structure now proudly stands as France's most celebrated icon. Our body clocks, not yet adjusted from Pacific Standard Time, woke us in the early morning darkness on the first day of our first…
Certain places throughout the world exude quality and inspire each of us to be the best version of ourselves. In Paris (and throughout France, for that matter) quality is the standard rather than the exception. At the heart of the city, rising over the banks of the Seine on the Île de la Cité, Notre…
I've always believed that travel is good for the mind and soul. It exposes us to culture, language, food and surroundings beyond the familiar setting of our everyday. On one such trip to France with my husband, I worked to capture the allure of this culture in photos as my eye could capture. Among the…